The Icelandic horse is a breed of horse developed in Iceland.  Icelandic horses are long-lived and hardy. In their native country they have few diseases; Icelandic law prevents horses from being imported into the country and exported animals are not allowed to return. The Icelandic horse displays two gaits in addition to the typical walk, trot, and canter/gallop commonly displayed by other breeds. This is the only breed of horse in Iceland, they are also popular internationally, and sizable populations exist in Europe and North America. The breed is still used for traditional farm work for example roundup of sheep, as well as for leisure, showing, and racing. Developed from ponies taken to Iceland by Scandinavian settlers in the 9th and 10th centuries, the breed is mentioned in literature and historical records throughout Icelandic history; the first reference to a named horse appears in the 12th century. Horses were highly respected in Norse mythology, a custom brought to Iceland by the country's earliest settlers. Selective breeding over the centuries has developed the breed into its current form. Natural selection has also played a role, as the harsh Icelandic climate eliminated many horses through cold and starvation. In the 1780s, much of the breed was wiped out in the aftermath of a volcanic eruption. The first breed society for the Icelandic horse was created in Iceland in 1904, and today the breed is represented by organizations in 19 different nations, organized under a parent association, the International Federation of Icelandic Horse Associations.
At Skorrahestar we have horses that fit your riding skill. All the horses are horses that we know personally and if they are a guest horse they stay with us for few weeks before we head out on a tour. Every horse has it's own unique character which we have gotten to know throughout the years. We try to pair every rider with a horse they will enjoy, and a horse that fits your needs. Every rider has also the opportunity to try up to 10 horses per long riding tour as their skills develops.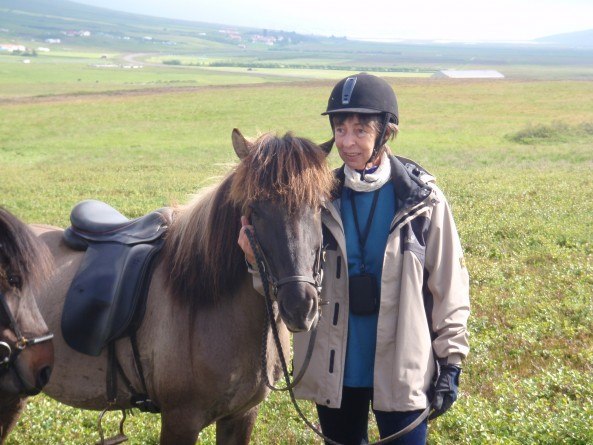 Sproti, born 1996.
Sproti is a a soft five-gaiter. He tolts really well and has soft trot. Sproti is very friendly and tries really hard to please the rider. He is excellent at leading the heard. When Doddi goes to round up the sheep and has a hand horse he does not need to lead Sproti – he follows. Once he was really occupied with eating grass and lost the sight of Doddi which was riding Sólon. Sproti ran around the valley calling for Sólon. When he did not find him he went straight home to Skorrastaður.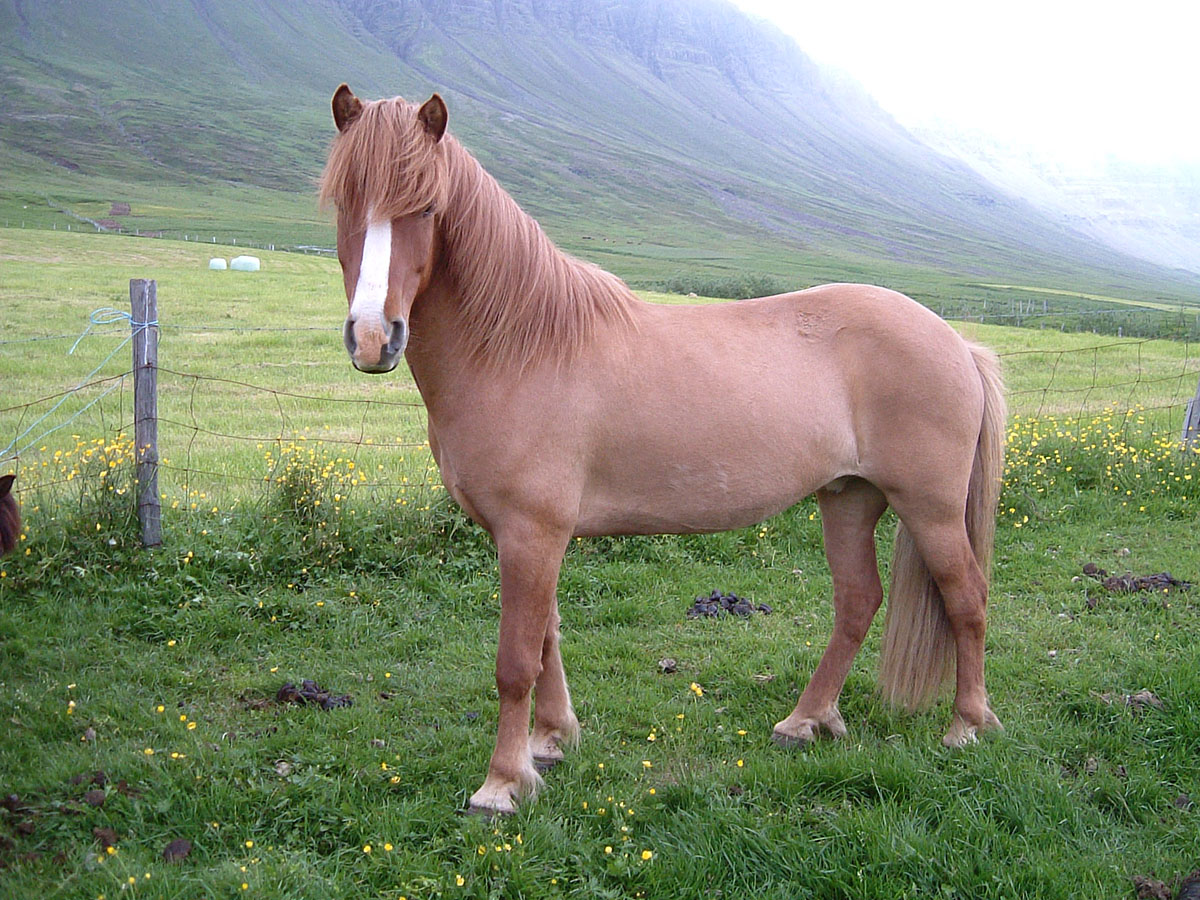 Sleipnir, born 1994.
Sleipnir is a five gaiter with a lot of main and tail. He takes big steps and can therefore be bit harsh on trot. He is rather small but a sturdy travel horse. During the first tour in 2012 he was hit by another horse in his hind leg and could not continue with the tour. He was not broken and was therefore left to heal in a deserted fjord for tree weeks. He got the whole winter off and healed nicely. Sleipnir has for many years been the families main competition horse. He has been to Fjórðungsmót and to Landsmót in addition to smaller local tournaments. In 2006 he was Doddi's main travel horse on his nine day trip from Landsmót in Skagafjörður to Norðfjörður. Sleipnir is really independent and in our mind the chief of the group.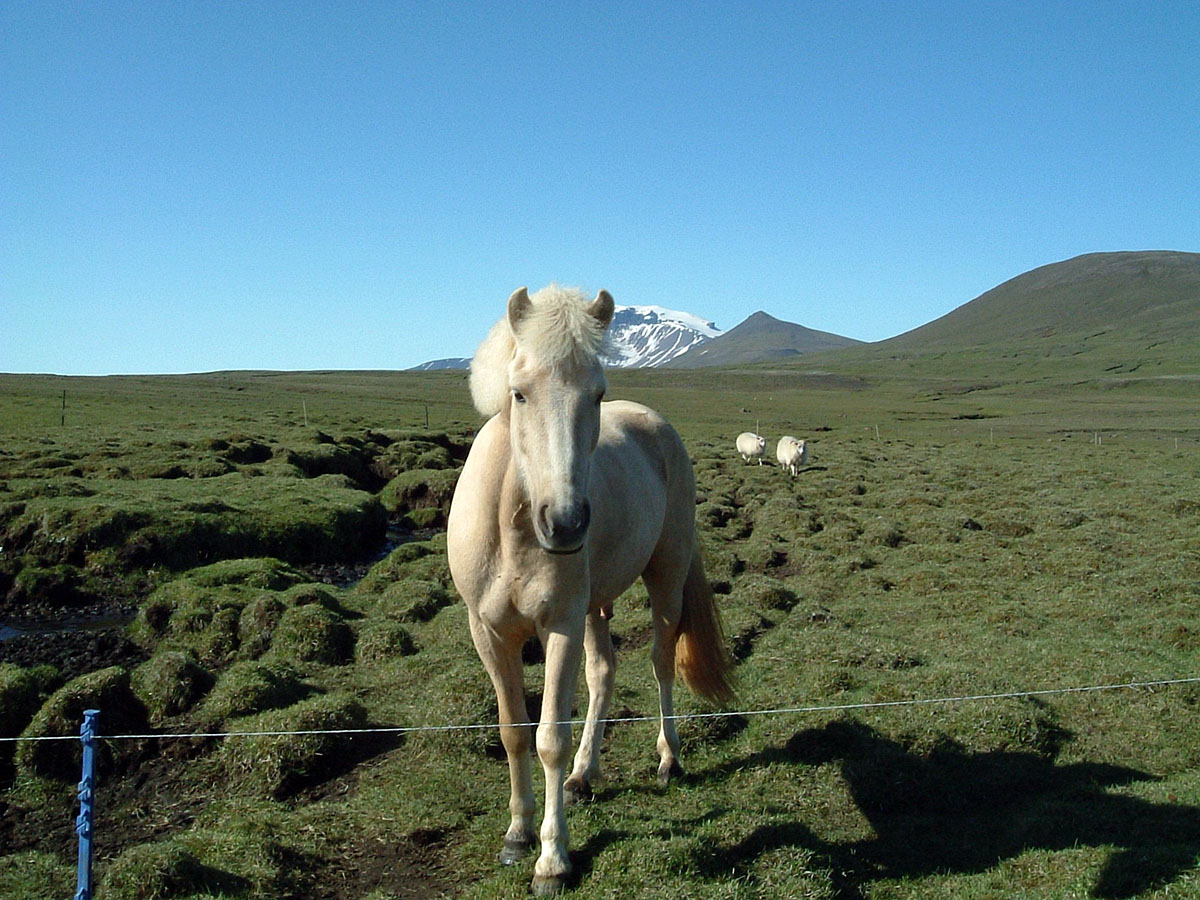 Sólon, born 1998.
Sólon is a five-gaiter and his best quality is his power and spirit. He sprints really fast and is usually the winner when we race the horses on our tours. He knows by now where we race the horses so when we approach the location he is already eager to sprint. Sólon is a decedent of Doddi's stallion H-Blesi which was born in 1968 and was put down in 1998. The decedents of H-Blesi are really high spirited, hard working and fast runners. When riding in the mountains we use a tail-band on Sólon to make sure the saddle stays in the right place.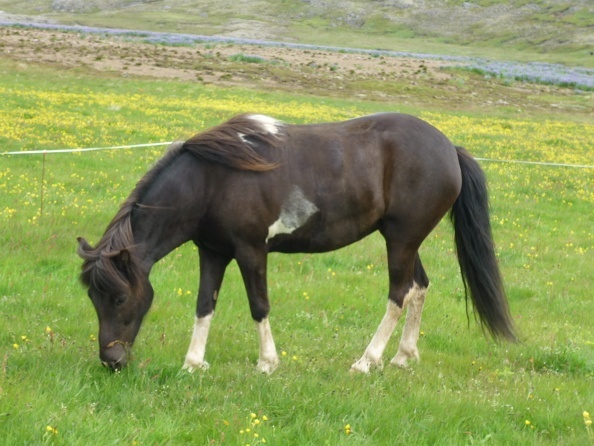 Vaka, born 2001.
Vaka, like Sólon, is a decedent of H-Blesi. She as really soft tölt and even though she does not take big steps because of her size she can go really fast. You can really rely on her but she has a sensitive mouth is so she requires a soft touch by the rider. She will eat her way through the mountain if we would allow her, so we make sure that she will get enough to eat but not to much. When riding in the mountains we use a tail-band on Vaka to make sure the saddle stays in the right place.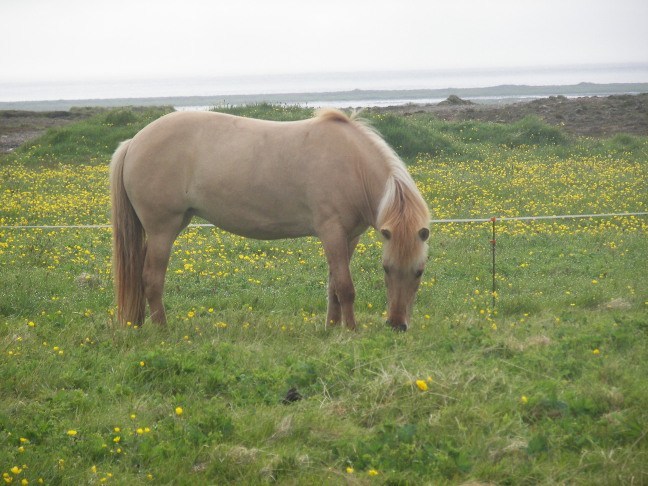 Ljóska, born 2002.
Ljóska is a hard worker in the mountains. Her gates are soft and she gallops really fast like other decedents of H-Blesi. She sees safety in numbers so she follows the heard really well when it is on the run. We also have to use tail band on Ljóska, as she has the same structure as Vaka, her aunt. She can be used by less experienced riders, and children. Very experienced riders enjoy her fast gallop.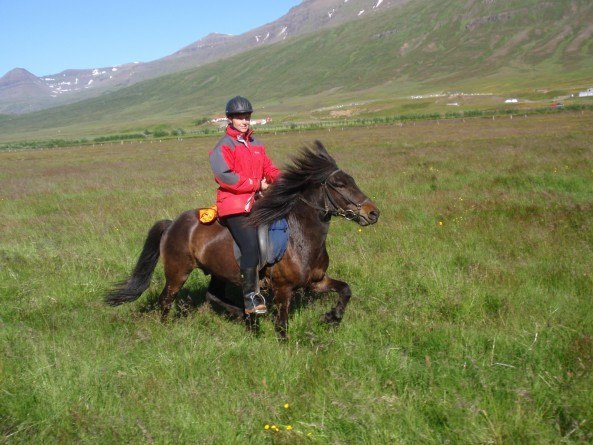 Skúmur, born 2002.
Skúmur is really a sweet five-gaiter. Those who get to know Skúmur tend to choose him for his soft tolt and easy handling. Skúmur has been to the capital. He lived there for one year with his owner Sóley when she was studying at the university. Skúmur is therefore one of few Skorrahestar horses that has the experience of city life.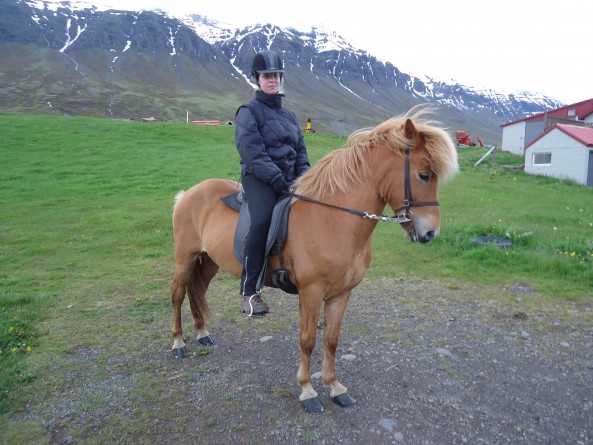 Skörungur, born 2004.
Skörungur can out-run all other horses on both tölt and trot. Skörungur is a five-gaiter but pace has not trained much. When in the mountain he is a hard-worker as he is both tall and strong. Skörungur is the son of Sær from Bakkakoti which is a famous Icelandic stallion.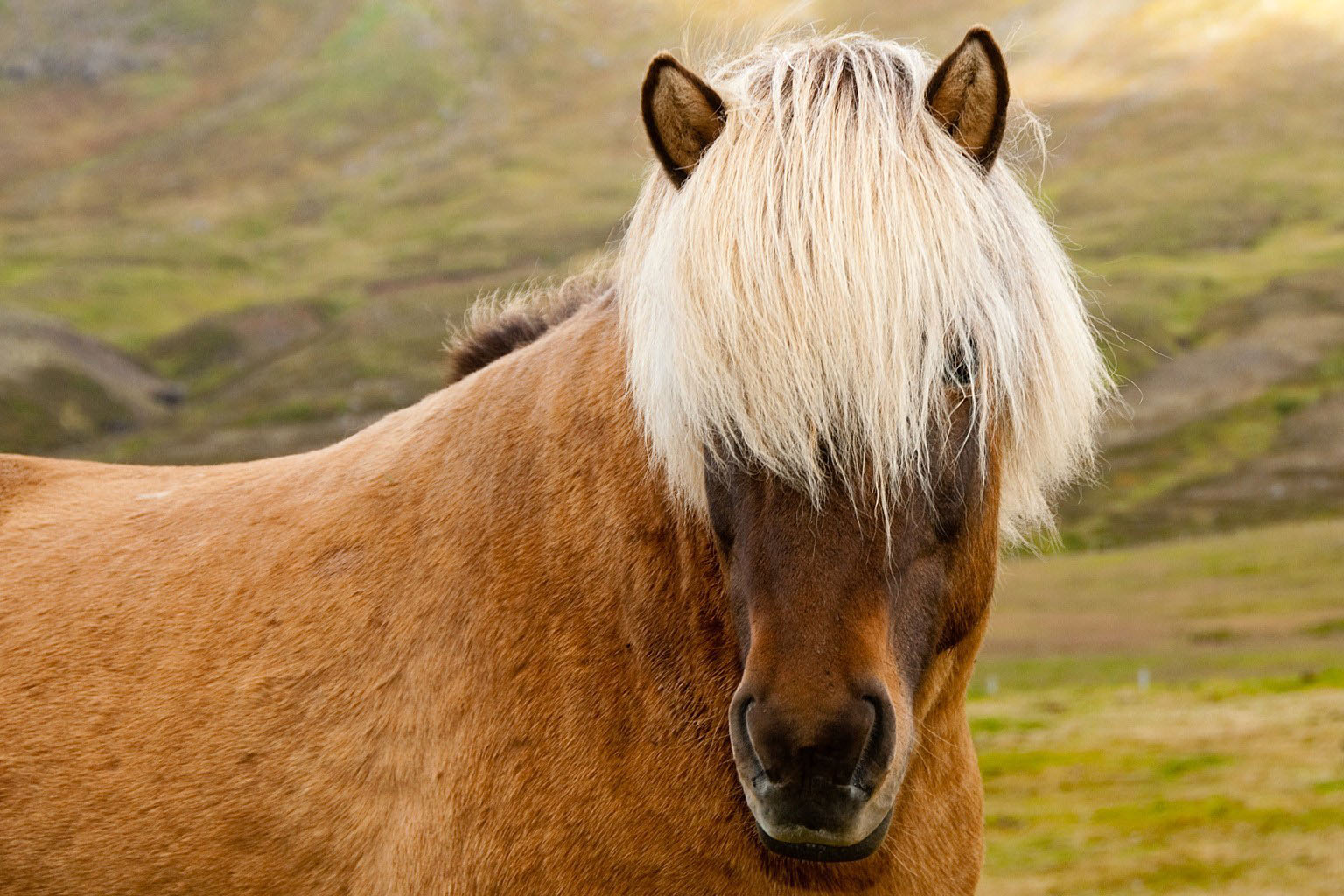 Silfurtoppur, born 1993.
Silfurtoppur was a gift to Sigga Thea, Doddis and Theas granddaughter when she was 5 years old. She named him after her favorite Playmobil horse. Silfurtoppur is a reliable and strong horse and has given many inexperienced riders the courage to ride upon high mountains. When Doddi rode to the top of the highest mountain in Norðfjörður on 4. September 2004 he was one of his horses along with Sleipnir and Stjarna. The color of Silfurtoppur is rare (bleikálóttur, vindóttur)and he is one of our most photographed horse and always ready to pose.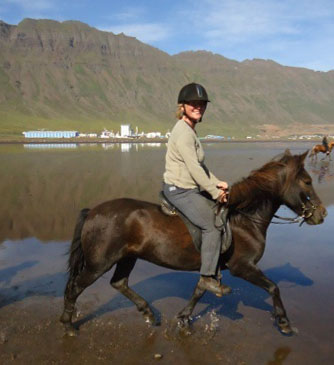 Mugga, born 1998.
Mugga is a hard worker and does her best work in the mountains. Her former owner always said "Mugga dear" when he talked to her. Doddi says that Mugga pays more attention to him if he says "Mugga dear". Mugga is well tempered and a great horse to roundup sheep's in the mountain. She is now more or less only used for younger children that need to be in the hand of either Doddi or Sunna, as Mugga is a great hand horse.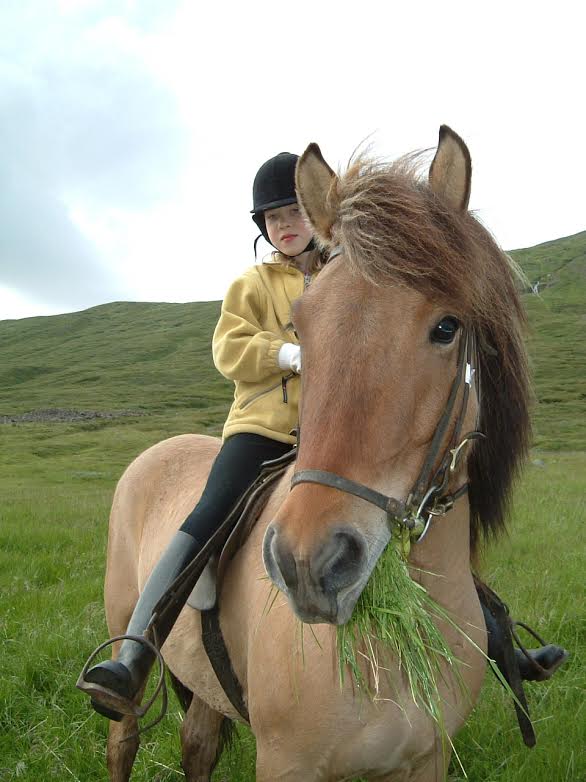 Smári, born 1998.
Smári is born on 1. May and named after a Smári Geirsson, the biggest socialist in the town council of Little Moskva (Neskaupstaður). Smári (the horse) is a really good tolt horse and nicely tempered and reliable horse even though his grandmother (on his mothers side) was fowled tempered. Smári can though be a bit difficult when the herd is free – his motto is "home sweet home".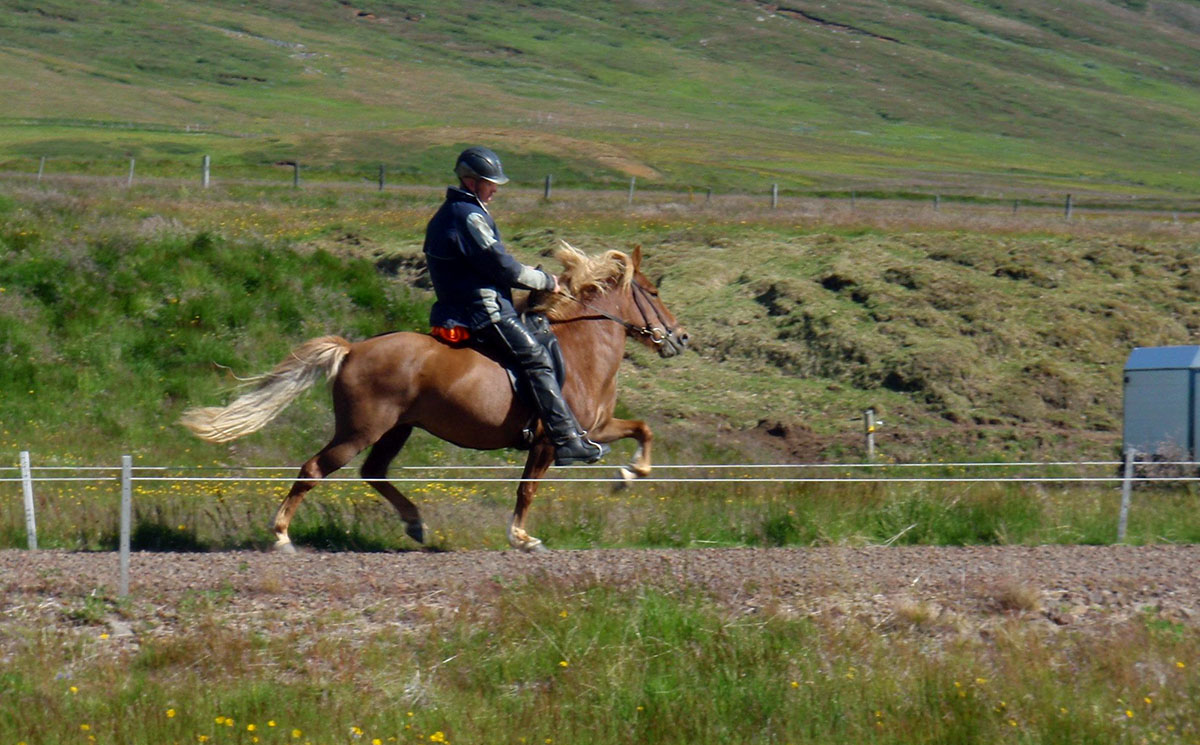 Daniella, born 2003.
Daniella is a sputnik five-gaiter. She is at her best in the mountains and on difficult and long trails. Daniella is a splendid swimmer and when she paces on a even ground she travels as fast as other horses do on gallop. Daniella is easy in the bridle, but still very active mare. She is only for experienced riders. Daniella is the daughter of Þyrnir from Þóroddsstaðir.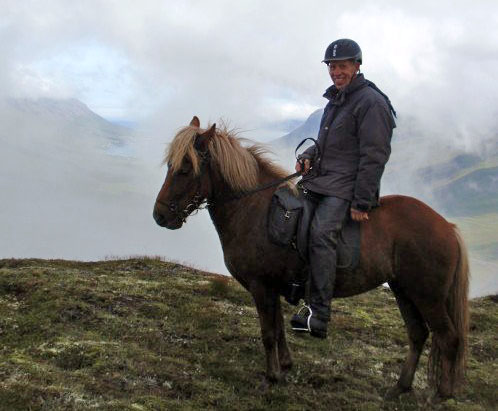 Skíma, born 2004.
Skíma is a reliable, tough travel-horse. She is at her best on difficult trails, narrow sheep-trails and steep mountains. Skíma never hesitates when asked to challenge herself in water or on land.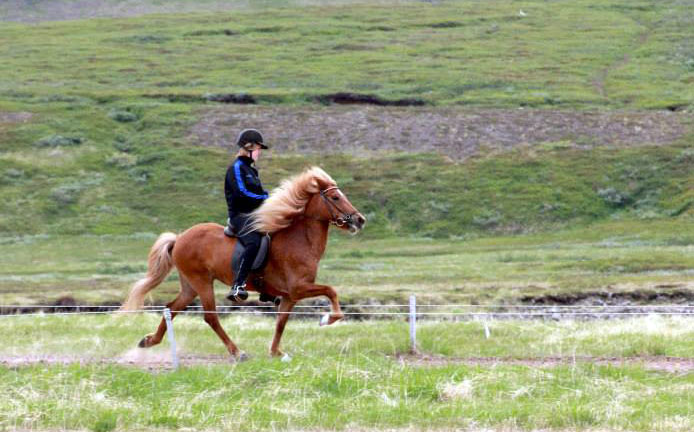 Sæstjarna, born 2008.
Sæstjarna is a small spirited mare with really soft trot and tölt. She is a sputnik horse for highly experienced riders. Sæstjarna is a daughter of Þóroddur frá Þóroddsstöðum, a famous icelandic stallion.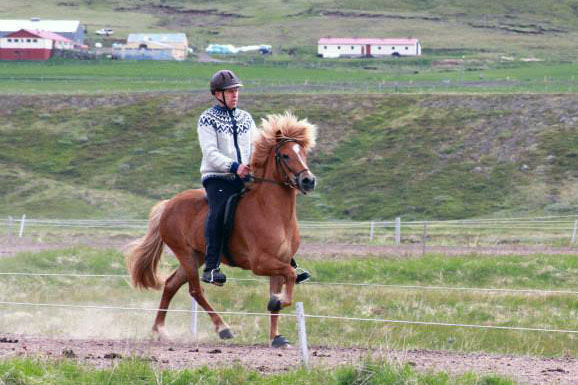 Maísól, born 2008.
Maísól is a beautiful mare with really fast tölt. She could be a breeding mare or a great competition horse, but at the moment she is a great riding horse for highly experienced riders. She depends a lot on the rider, so the riders have to have a lot of confidence when riding her. She is the daughter of Hágangur frá Narfastöðum, a famous Icelandic stallion.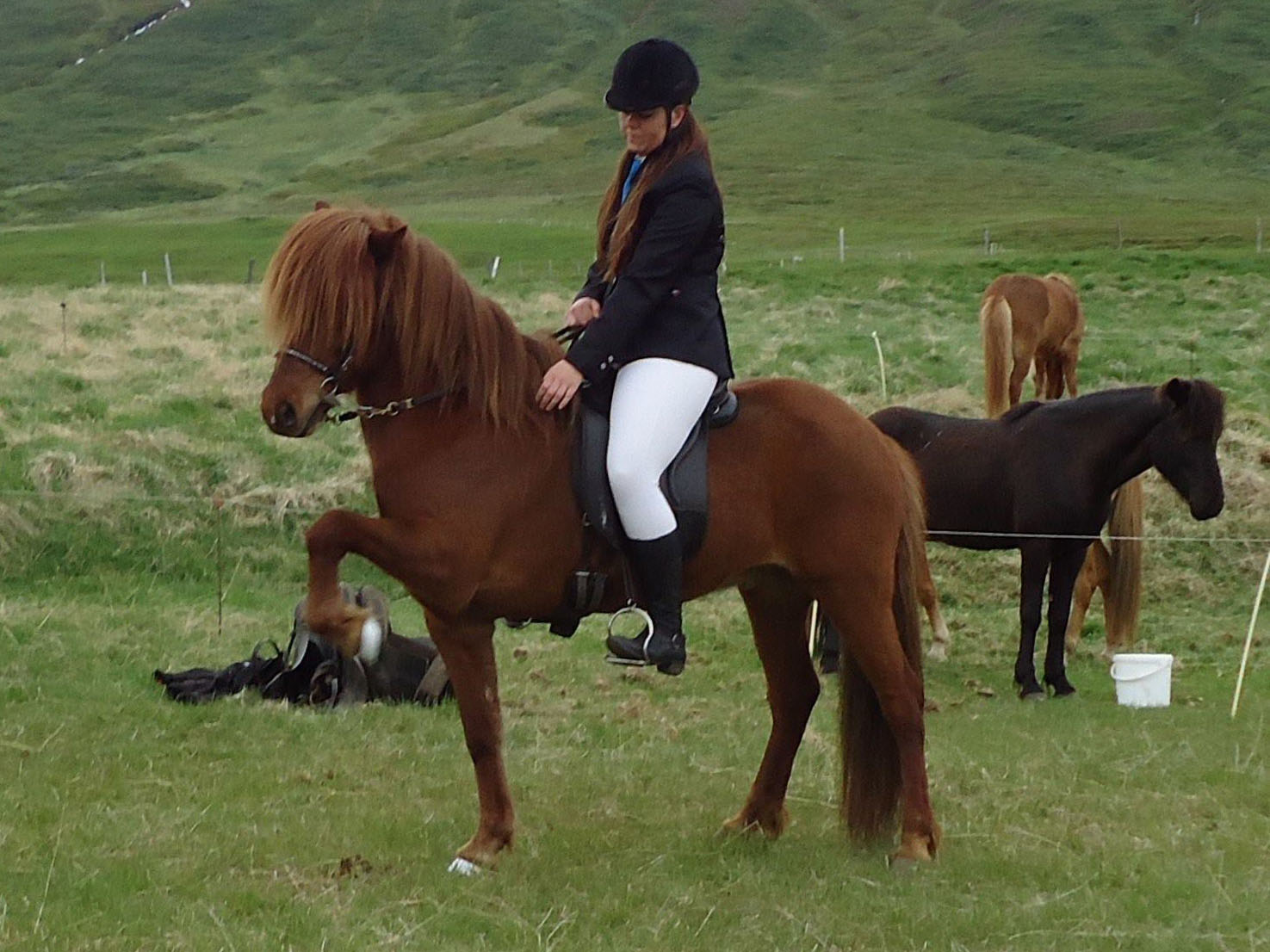 Skorri, born 2007.
Skorri is one of those horses that has the "X-factor". He is alert, stunning, with beautiful main and tail and really powerful gaits. Horses like that are also difficult to train. He is only be for the extremely experienced riders of Skorrahestar. Skorri is the son of Gári from Auðsholtshjáleigu a renowned Icelandic stallion and truly looks like his father.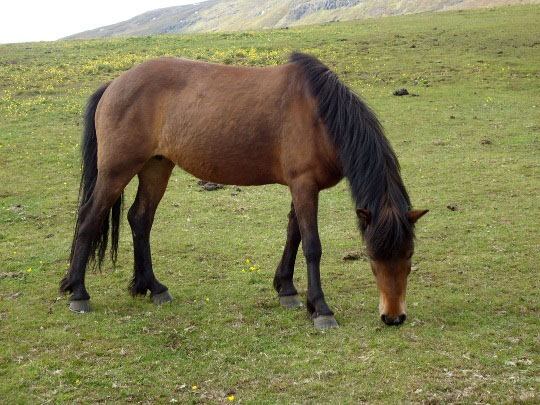 Freyja, born 2005.
Freyja has high leg-action on tölt. She is delicate and very much aware of her surroundings and does not like to be left behind. Freyja is a true viking mare and does not like to be tied to anything or she will break loose. She is the mother of Röskva.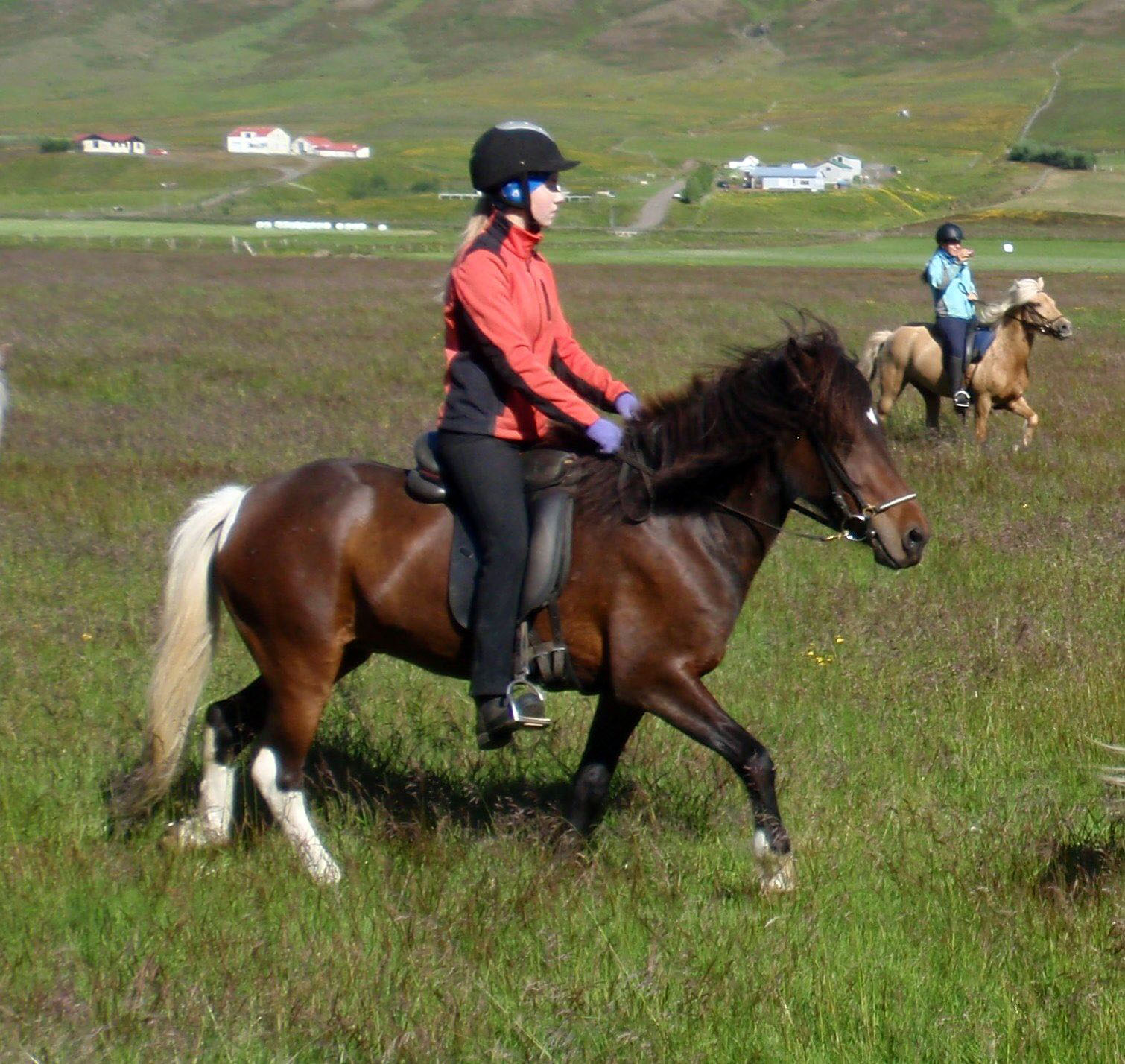 Skotta, born 2007.
Skotta is Sigga Thea's horse (grandchild of Doddi and Thea). Skotta is really hard working and soft to ride. Sigga Thea found Skotta at a roundup in north of Iceland when Skotta was two years old. The owner of Skotta was going to send her to the slaughter house but her beautiful color and soft spirit caught Sigga Theas eyes. Sigga Thea bought her from the farmer and took her to Skorrastaður where she enjoys her life. She is a great mountain- and beach horse, and easy to handle. That being said, she is not for beginners.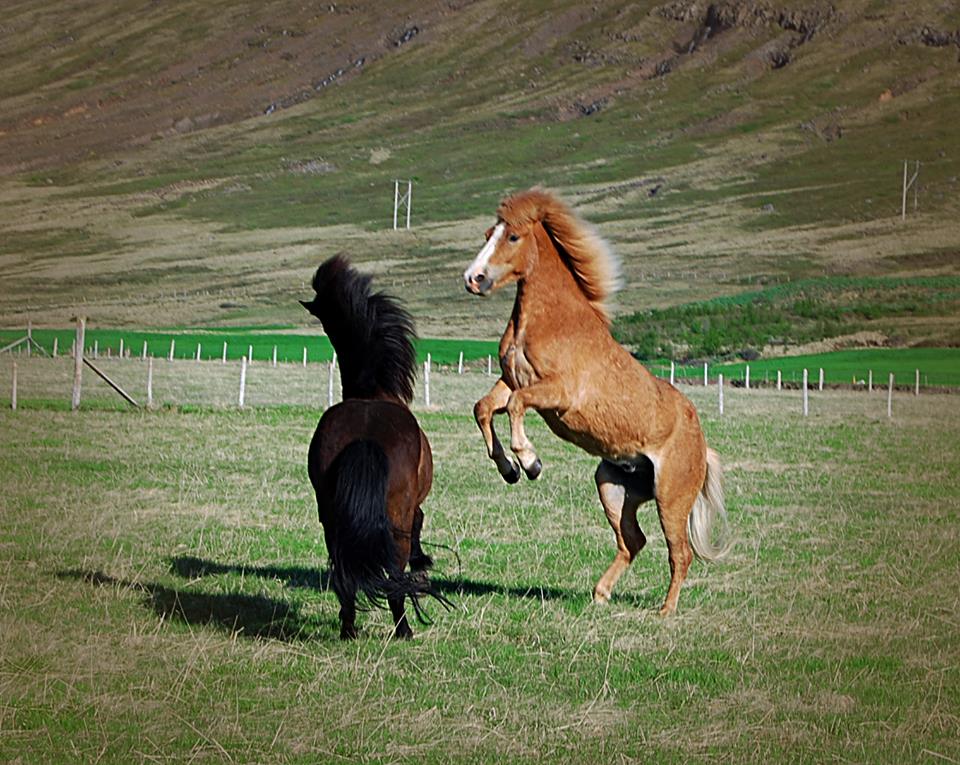 Skarpur, born 2009.
Skarpur is owned by Júlíus Bjarni, 10 year old grandson of Doddi and Thea. Skarpur is a higly reliable and good riding horse, and works well with beginners and children. He has really sweet spirit and is really interested in his rider. Skarpur is a reliable four-gaiter with good tölt.